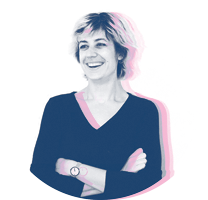 Elena Gullace
Dopo essermi diplomata come Graphic Designer presso l'Istituto Europeo di Design di Milano (IED), ho iniziato la mia carriera professionale nel 2007 presso Lovebrand, un'agenzia di comunicazione e packaging specializzata nel lusso del beauty e della cosmetica, dove ho ricoperto il ruolo di Graphic Designer e Art Director per 10 anni.
Durante questa esperienza, ho lavorato a stretto contatto con importanti aziende come Persol e Rayban del gruppo Luxottica, Acqua di Parma del gruppo LVMH, Police, Replay, The Merchant of Venice del gruppo Mavive Spa, Bionike, Elgon Cosmetics, Atkinsons e I Coloniali del gruppo Perfume Holding, Cesare Paciotti, Enrico Coveri, Alfaparf Group, e molti altri. Nel corso di questi anni, ho anche sviluppato competenze specifiche nel Visual Merchandising e nel Web Design.
Nel 2015, ho fondato una nuova start-up insieme a una socia e amica, chiamata Studio Ottanio Milano, un'agenzia di comunicazione specializzata nel branding e packaging per il settore beauty e cosmetico.
Nel 2018, ho deciso di intraprendere una nuova avventura, Allez!Beauty Design Studio, un'azienda che opera nel settore beauty e in altri settori del lusso e che si distingue per il suo entusiasmo contagioso, il dinamismo e un approccio vivace e sprintoso in tutto ciò che facciamo. Abbiamo voluto creare una realtà snella, in grado di adattarsi rapidamente alle esigenze del mercato e di offrire soluzioni creative e innovative. La nostra passione per l'estetica, la bellezza e la ricerca continua ci spinge a esplorare nuovi orizzonti, sebbene il nostro focus principale sia nel settore beauty e cosmetico, siamo anche attivi in altri settori appartenenti al mondo del lusso. Offriamo servizi di branding, packaging, comunicazione visiva, advertising, social media e altro ancora, lavoriamo a stretto contatto con i nostri clienti, ascoltando attentamente le loro esigenze e creando soluzioni su misura che riflettano la loro identità unica.
Allez world!
ph. 333.39.59.872